Quand :
5 juin 2022 @ 17 h 00 min – 18 h 30 min
2022-06-05T17:00:00+02:00
2022-06-05T18:30:00+02:00
Où :
Pôle d'Animation Culturelle
Avenue d'Aquitaine 24480 Le Buisson de Cadouin
Coût :
Entrée : 15€, adhérents 12€, étudiants, demandeurs d'emploi 8€, tarif famille, gratuit moins de 16 ans
Contact :
Raymond BARASZ
05 53 23 86 22
Program :
Sonate de Debussy
I. Prologue  II. Sérénade  III. Final 
Adagio et Allegro de Schuman
Élégie et Papillons de Fauré
_
Sonate de Franck
1 Allegretto ben moderato    2 Allegro
3 Recitativo-Fantasia (ben moderato)  4 Allegretto poco mosso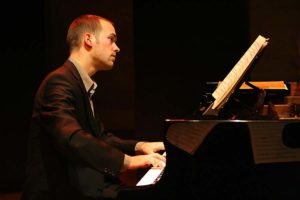 A multi-faceted musician, Grégory Ballesteros is involved in a wide range of projects, at the crossroads of the arts and aesthetics. Trained at the Conservatoire National Supérieur de Musique et Danse de Lyon (piano, chamber music, pedagogy, music for the image), he is also developing a personal approach to improvisation and composition.
He collaborates with the company La Cordonnerie, the Colonie Bakakaï, the choreographer Yuval Pick and the Centre national chorégraphique de Rillieux-la-Pape, the Orchestre national de Lyon, the Orchestre de Mulhouse, the Orchestre de Bretagne, the ensembles Op-Cit and Accroche Note, as well as with many video artists, singers, dancers, actors and directors. He performs on many French stages: Festival Chopin de Bagatelles, Festival de l'Epau, Biennale Musiques en scène/Grame, Festival C'est pas classique de Nice, Nuits du Suquet, Abbaye de Royaumont, Septembre musical de l'Orne; and abroad: Finland, Italy, Germany, Canada, Brazil, Morocco, Bulgaria…
He has been invited to play alongside musicians such as Sabine Devieilhe, Alain Buet, Mathieu Romano, David Violi, the soloists of the Lyon National Orchestra and the Strasbourg National Orchestra… He has a special interest in contemporary music and works with composers such as François-Bernard Mâche, Philippe Hersant, Raphaëlle Biston, Helmut Lachenmann, Betsy Jolas, Jean-Luc Fafchamp, etc.
Grégory Ballesteros holds a certificate of aptitude and a master's degree in teaching. He is a professor at the Ecole nationale de musique de Villeurbanne and also teaches at the INSA and the CNSMD in Lyon.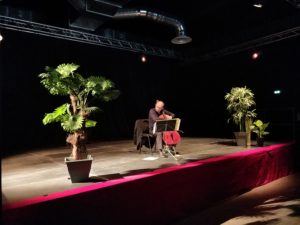 Nicolas Hartmann studied at the Conservatoire à rayonnement départemental d'Orléans, then at the Conservatoire national supérieur de musique et de danse de Paris with André Navarra and Philippe Muller. In 1983 he won a virtuosity prize at the Geneva Conservatory and continued his studies in Cologne with Boris Pergamenschikow. After winning the Pablo Casals Competition in Barcelona in 1986, he became principal cellist of the Orchestre des Pays de Savoie, and in 1992 he joined the Orchestre National de Lyon, where he holds the same position. Nicolas Hartmann has performed as a soloist under the direction of Franz Welser-Möst, Emmanuel Krivine, Alexandre Lazarev, David Robertson, Thierry Fischer, Tibor Varga, Roy Goodwin, and has played chamber music with Emanuel Ax, Éric Le Sage, Joseph Silverstein, Jennifer and Alan Gilbert, Harvey de Souza, Boris Garlitzky, Emmanuel Pahud, Bruno Pasquier. Passionate about early instruments, he was a member of the Chambre Philharmonique, the orchestra founded by Emmanuel Krivine. Since 2001, he has been the cello teacher at the Orchestre français des jeunes.
Recently he played Dvorak's quintet with Nikolaj Szeps-Znaider and Bertrand Chamayou in chamber music in 2021, and in the 22-23 season at the Lyon auditorium, he will take part in a show written by Alexandre Tharaud, including excerpts from Bach's suites for solo cello.