The Arcades Association was created 20 years ago, with the aim of spreading culture in the region around Le Buisson de Cadouin.For a long time, it organized a small number of events each year in the different villages of this area and in various forms: classical, jazz, theatre, painting, Japanese culture etc.
In early 2014, the Cultural Animation Center (le Pôle d'Animation Culturelle) was commissioned, providing a large hall and stage equipped with modern technical equipment and excellent acoustics, enabling the development of the musical programmes that we offer now.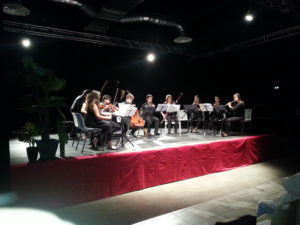 Taking into account all the musical events held in the surrounding villages, and in particular the almost total absence of classical music concerts outside the summer, the current members of the Arcades committee decided to set up a series of classical concerts from September to June.
Over the years, we have developed a network of relations with very high-level musicians from France, Great Britain, Russia, Italy, Holland, etc, which allows us to stage about fifteen events in this venue each year.
The reputation for quality that we have developed and maintained has led to requests from many artists who wish to come to Le Buisson de Cadouin and has led to a programme schedule which now extends two years into the future.
Arcades is actively supported by the Department and the Community of Communes Bastides-Dordogne-Périgord for our cultural activity in rural areas. Arcades partners with the associations ACIP and La Tulipe, thus bringing together the French, English and Dutch communities living in Dordogne. Arcades and the Cultural Animation Center therefore function as a cultural center devoted to classical music, and supported entirely by the dedicated work of volunteers. Our audience comes from many parts of the Dordogne and neighbouring departments and some of them travel an hour to come to our concerts.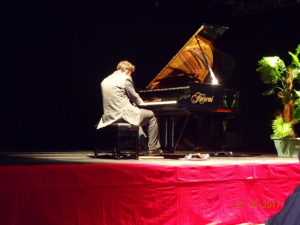 Recently the association has become a partner of the Long, Thibaud, Crespin competition, which gives us the assurance of being able to bring to Le Buisson each year a laureate of the largest international French classical music competition.
In June 2020, we acquired a Yamaha CFIII concert grand piano.
Some musicians' returns:
"Just a little personal message to thank you once again for your warm welcome this weekend, and that of your entire team.I also wanted to sincerely congratulate you and thank you for the tremendous work done by your association. It is so important for music, and for musicians. (Gallien trio) "
"A little message to thank you for this beautiful weekend of exchanges that you have allowed us to live!
We have received a lot and fully benefited from the energy conveyed by each member of the Arcades association!
Florent and I will therefore keep a wonderful memory of this experience, and the attention that each of you have had with us!
Although you are very much in demand, and rightly so, we would be very happy to have the chance to perform again in a future season (duo Con Fuoco) "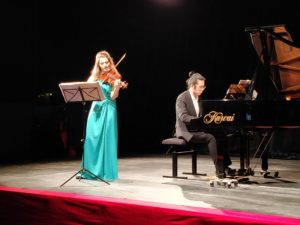 Registered during a concert in our hall : https://youtu.be/qKtNgaJNKsE
Geneviève and I wanted to thank you for your kindness and dedication…….we have enjoyed our stay with you and your friends (Pierre-Alain Volondat).
…and thank you so much for your organisation. We had a great time in the region thanks to your warm welcome. We wish you a very nice summer and see you soon (Quatuor Una Corda).
These few days of concerts and moments shared with you all have filled me with joy, and I thank you most sincerely for your invitation (Elodie Guillot).