May
15
Sat
2021
Maryse CASTELLO cello and Jean DUBE piano (subject to deconfinement)
May 15 @ 17 h 00 min – 18 h 30 min
Program :
Félix MENDELSSOHNN  2ème sonate en ré maj op 58 (1843)
Jules MASSENET : Tristesse de Dulcinée, interlude de l'acte V de l'opéra Don Quichotte (1910)
Entracte
Mélanie BONIS Sérénade
Léon BOELLMANN Sonate en la min op 40 (1897)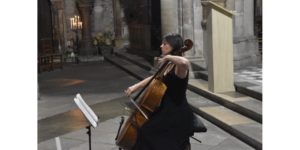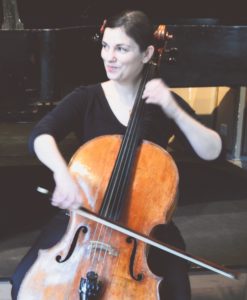 Maryse Castello, cello
She started playing the cello at the age of 5. She entered the CNR in Strasbourg where she obtained a gold medal in Jean Deplace's class. She then studied with Reine Flachot at the Ecole Normale de Musique de Paris, obtaining the Diplôme Supérieur de Concertiste, then with Edmond Baert at the Conservatoire Royal de Musique de Bruxelles, where she was awarded the Diplôme Supérieur avec Grande Distinction.
She is the principal cellist of the Orchestre symphonique Centre Val de Loire- Tours with whom she has performed concertos by Boccherini, Haydn and Saint-Saëns. She is also regularly invited by the orchestras of the Paris and Firenze operas.
She has participated in 3 creations by the director Thierry Bédard with the Notoire company, "Encyclopédie des morts", "La Bibliothèque censurée", "Enfer" (TGP de St-Denis, scènes nationales).
She is the author of numerous recordings: concerto by Emil Cossetto (Radio France), duets with piano (Sude) and chamber music by Philippe Hersant (Triton).
She is a founding member of Trio Pilgrim, with whom she recorded the two Mendelssohn trios (Triton), performed the complete Beethoven trios at the 5X7 festival in Vevey, and in September 2018 premiered a work by Martin Matalon, which was dedicated to Trio Pilgrim.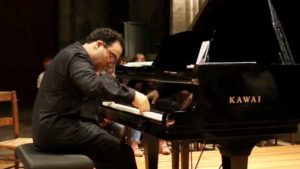 Jean Dubé, piano
Born in December 1981, internationally recognized as one of the most important young pianists of our time, Jean Dubé is appreciated for his musicality and power.
"He can play everything with absolute understanding, not to mention his phenomenal piano technique" (Normunds Šnē, Conductor and Director of the National Orchestra of Riga, Latvia, 2003)
A child prodigy in music, he has been performing around the world since the age of four and won a Steinway piano at the age of nine in the national competition "Jeunes Prodiges Mozart à Paris". That same year, he performed as a soloist at the Maison de la Radio with the Radio France Philharmonic Orchestra, live on France Musique.
His discography already includes some thirty recordings, including twenty CDs, in particular for Syrius, Bnl, Naxos and several DVDs of concertos for French television and other foreign radio and television stations.
Very comfortable in all repertoires, including that for the left hand, he is one of the rare pianists in the world capable of playing Gÿorgy Ligeti's Piano Concerto and of giving Olivier Messiaen's Vingt Regards sur l'Enfant Jésus in one recital.
He likes to combine other arts with music (painting, sculpture, film, literature) and to give themed recitals (bells, birds, love, dance, waters and gardens). His performance of Turangalîlâ was awarded the title of Best Performance of the Year in Riga in 2000 and his performance of Franz Liszt's Second Hungarian Rhapsody was the fastest rebroadcast in the history of Radio Chicago (WFMT) in 2002.
First Prize at the Conservatoire National Supérieur de Paris at the age of fourteen with Jacques Rouvier, he studied with Jacqueline Robin, Catherine Collard, Vladimir Krainev, Rudolf Buchbinder, Murray Perahia and attended the classes of John O'Conor during a year in Dublin thanks to the Yvonne Lefébure scholarship. Winner of the European Piano Competition "Ouistreham Riva" in 2009, which also awarded him the Chopin Association Prize in Nohant, he also won the First Grand Prize and the Audience Prize of the Franz Liszt Competition in Utrecht in 2002 as well as other international competitions ("Francis Poulenc", "Bucarest", "Messiaen", "Bourse Yvonne Lefébure", "Orléans XXe siècle").
Invited as a jury member for international competitions ("Pinerolo" 2004, "Poulenc" 2008, "Chang Chun" 2009, international pre-selections for the "Franz Liszt" competition in Utrecht 2020), he also gives masterclasses (in Finland, Hungary, the Netherlands, Ecuador, Ethiopia, South Africa, China, Malta…).
He has performed on all continents as a soloist, in chamber music ensembles and with many major orchestras. His latest recordings for Syrius include an album of genre pieces (le Violon fantasque) with the violinist Frédéric Pélassy and another in homage to the Amerindians.
He regularly collaborates with opera specialist Julia Le Brun (http://www. levoyagelyrique.com) on concert-conferences. He is also one of the artistic directors of Concertino (www.concertino.fr).
*** Translated with www.DeepL.com/Translator (free version) ***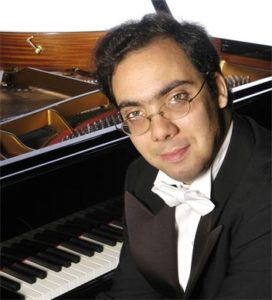 *** Translated with www.DeepL.com/Translator (free version) ***