Dec
28
Wed
2022
LE BUISSON Film music by Jean DUBE on piano

@ Pôle d'Animation Culturelle
Dec 28 @ 15 h 30 min – 17 h 00 min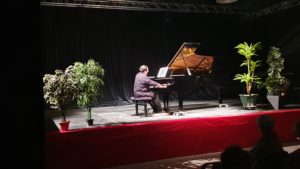 Program :
A.Newman/J.Dubé :  Les 7 mercenaires, thème
M.Steiner/J.Dubé :  Autant en emporte le Vent , thème
B.Herrmann/J.Dubé: Scène d'amour du film Vertigo
B.Herrmann/J.Dubé:  Psycho , générique
E.Morricone/Morricone :  Playing love  ,du film « 1900 la légende du pianiste «
H.Mancini /Mercuzio :  Breakfast at Tiffany's : chanson "Moon River"
D.Elfman/J.Dubé: Matilda, générique de fin
C.Bolling/G.Krezos :  Borsalino and Co, Thème
Vangelis/J.Dubé :   1492 :  Conquest of paradise
Pause
J.Horner/J.Dubé :  «  for the love of a Princess" du film Braveheart
G.Delerue/J.Dubé :  Des Pissenlits par la racine, thème
M.Legrand/Yann Le Gac : Les parapluies de Cherbourg : I will wait for you
J.Williams/J.Dubé:  Hedwige Theme , du film "Harry Potter and the sorcerer's stone"
J.Williams /J.Dubé:  Star Wars, Thème
J.Williams /J.Dubé: Superman, Thème
J.Williams /J.Dubé : Indiana Jones " Raiders of the lost Ark ": générique de fin
M.Theodorakis/J.Dubé:  Danse de Zorba ,  extraite du film   « Zorba le Grec «
Jean Dubé, piano
Born in December 1981, internationally recognized as one of the most important young pianists of our time, Jean Dubé is appreciated for his musicality and power.
"He can play everything with absolute understanding, not to mention his phenomenal piano technique"(Normunds Šnē, Conductor and Director of the National Orchestra of Riga, Latvia, 2003)
A child prodigy in music, he has been performing around the world since the age of four and won a Steinway piano at the age of nine in the national competition "Jeunes Prodiges Mozart à Paris". That same year, he performed as a soloist at the Maison de la Radio with the Radio France Philharmonic Orchestra, live on France Musique.
His discography already includes some thirty recordings, including twenty CDs, in particular for Syrius, Bnl, Naxos and several DVDs of concertos for French television and other foreign radio and television stations.
Very comfortable in all repertoires, including that for the left hand, he is one of the rare pianists in the world capable of playing Gÿorgy Ligeti's Piano Concerto and of giving Olivier Messiaen's Vingt Regards sur l'Enfant Jésus in one recital.
He likes to combine other arts with music (painting, sculpture, film, literature) and to give themed recitals (bells, birds, love, dance, waters and gardens). His performance of Turangalîlâ was awarded the title of Best Performance of the Year in Riga in 2000 and his performance of Franz Liszt's Second Hungarian Rhapsody was the fastest rebroadcast in the history of Radio Chicago (WFMT) in 2002.
First Prize at the Conservatoire National Supérieur de Paris at the age of fourteen with Jacques Rouvier, he studied with Jacqueline Robin, Catherine Collard, Vladimir Krainev, Rudolf Buchbinder, Murray Perahia and attended the classes of John O'Conor during a year in Dublin thanks to the Yvonne Lefébure scholarship. Winner of the European Piano Competition "Ouistreham Riva" in 2009, which also awarded him the Chopin Association Prize in Nohant, he also won the First Grand Prize and the Audience Prize of the Franz Liszt Competition in Utrecht in 2002 as well as other international competitions ("Francis Poulenc", "Bucarest", "Messiaen", "Bourse Yvonne Lefébure", "Orléans XXe siècle").
Invited as a jury member of international competitions ("Pinerolo" 2004, "Poulenc" 2008, "Chang Chun" 2009, international pre-selections of the "Franz Liszt" competition in Utrecht 2020), he also gives masterclasses (in Finland, Hungary, the Netherlands, Ecuador, Ethiopia, South Africa, China, Malta…).
He has performed on all continents as a soloist, in chamber music ensembles and with many major orchestras. His latest recordings for Syrius include an album of genre pieces (le Violon fantasque) with the violinist Frédéric Pélassy and another in homage to the Amerindians.
He regularly collaborates with opera specialist Julia Le Brun (http://www. levoyagelyrique.com) on concert-conferences. He is also one of the artistic directors of Concertino (www.concertino.fr).
Translated with www.DeepL.com/Translator (free version)
Jan
14
Sat
2023
Cinéma LE BUISSON : piano / clarinet concert by G. POTENZA and A. CIRRITO

@ Cinéma
Jan 14 @ 15 h 30 min – 17 h 15 min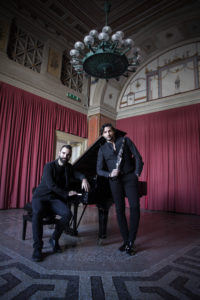 Program :
Camille Saint-Saens : Sonata per clarinetto e pianoforte op. 167 (1921)
1 – Allegretto       2 – Allegro animato         3 – Lento  4 – Molto allegro
Claude Debussy : Premiere Rhapsodie
Entracte
Johannes Brahms: Sonata per clarinetto e pianoforte op.120 n.1
1 – Allegro appassionato         2 – Andante un poco adagio
3 – Allegretto grazioso
Francis Poulenc, Sonata per clarinetto a pianoforte op 184
1 – Allegro tristamente (Allegretto – Très calme – Tempo allegretto)
2 –  Romanza (Très calme)         – Allegro con fuoco (Très animé)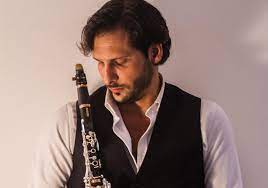 Photo Buffet Crampon
Cirrito Alessandro born in Turin in 1989, began his studies at the Conservatorio V. Bellini in Palermo, where he graduated with top grades and honors. From 2011 to 2015 he completed the Master's degree at the Musikhochshule in Karlsruhe under the tutorage of Prof. W.Meyer During his study He attended also master class whit Romain Guyot, Calogero Palermo, Fabrizio Meloni, Alessandro Carbonare, Paul Meyer, Sabine Meyer. Whilst a student he won many major internazionale Competition: 2008 » Eliodoro Sollima's » Competition, in 2009 « Prize Albanese", in 2013 he won the First Prize and the Audience Prize at the "Clarinet's Awards Competition"(Germany), ecc.. In 2014, at the age of 24, he won the Audition for Section
Leader Principal Clarinet with the Royal Liverpool Philharmonic (trial). He has been selected also in a lot of Audition and performed with many orchestra like : Verbier festival , Sinfonieorchester Münster, Ulster Orchestra, Orchestra Sinfonica Siciliana, Royal Liverpool Philarmonic, Malta Philarmonic, Badisches Staadtstheater Karlsruhe, Copenaghen Philarmonic,ecc.., alongside many leading conductors such as Michail Jurowki, Vasily Petrenko, Günter Neuhold, Maxime Pascal, Daniele Rustioni,ecc..
In 2017 he won the audition for Principal Clarinet n2 with the Ulster Orchestra ( Irland) where he performed until October 2019. He has tourned worldwide and performed in some of the finest Concert halls including the Royal Concertgebouw Amsterdam, Royal Albert Hall London( BBC Proms) and many others. He has also broadcast live concerts in radio and television for BBC radio 3, BBC radio Ulster, Rai Television and has recorded several CDs for labels such as Chandos, Naxos,ecc..
Very passionate about chamber music He has numerous perfoming for important Italian musical associations and organizations including "Amici della musica", « FOSS », Rotary Club, ecc.. often with the international soprano Desirèe Rancatore.
Alessandro Cirrito plays a Buffet-Crampon Legende Clarinets.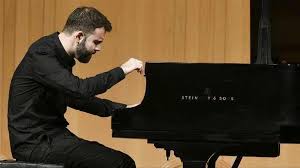 Photo La Nueva Espana
Giulio Potenza (°1990) started the piano at the age of six and has since then established himself as a
respected concert pianist, teaching and performing extensively. He has been invited to play at prestigious international festivals and venues including the Martha Argerich's Lugano Project of Lugano, the Bangkok International Piano Festival , the Lofoten Chamber Music Festival in Norway, the Carnegie Hall in New York, Musikverein in Wien, Filarmonia of Oviedo, St. John's Smith Square, Bridgwater Hall of Manchester, Grieg Hall in Bergen, Auditorium Bernanos in Paris, and the Theter aan de parade in Hertogenbosch.
As a soloist, he has performed with the Florence Symphony Orchestra, directed by Piero Bellugi, the University of London Symphony Orchestra, directed by Daniel Capp Exeter Symphony Orchestra directed by Arturo Serna and the North Beds Orchestra directed by Jan Kaznowski. He has collaborated with many renowned artists such as Anton Niculescu, Silvia Mazzon, Jose Menor, Antonello Farulli, Daniel Rivera, Gabriele Baldocci, Stefano Farulli, Zoe Freedman ,Nicolas Dupont. His recitals and recordings have been broadcast by BBC Radio 3, Rai Radio 3, the Swiss Classical Radio, Radio Musiq 3, Radio Klara, Radio Vaticana, Radio Mozart Italia and Rai National Television. Giulio has won prizes at several important piano competitions including the Hanna Brooke prize for piano, for his excellence in the concert career at the Trinity Laban Conservatory; 2nd prize at the Bradshaw & Buono International Piano Competition of New York (2016); 1st prize at the Seiler International piano competition (2002); "Highly Commended Award" at the Jacques Samuel Piano Competition of London (2012). He is professor of piano at the Trapani Conservatory of Musica in Italy and at the Windsor Piano Academy in U.K. and regularly gives master classes in the UK and abroad (Trinity Laban of Music and Dance London, Assumtpion University of Bangkok etc.).
Giulio Potenza holds a Postgraduate Degree, Postgraduate Artist Diploma Degree and ISP Advanced Diploma from the Trinity Laban Conservatorie of Muisc and Dance of London with Distinction. Furthemore he holds a Bachelor in History from University of Palermo. He completed his undergraduate music studies at the conservatory of Trapani (Italy).
Concert given atthe Quirinale Palace on Sunday Nov 27th
https://www.raiplaysound.it/audio/2022/11/I-concerti-del-Quirinale-del-27112022-4771df0f-d9aa-4b8d-84b6-a65d1a558ba6.html
Feb
4
Sat
2023
CINEMA LE BUISSON Piano recital by KIM DA-HEE

@ Cinéma LUX
Feb 4 @ 15 h 30 min – 17 h 30 min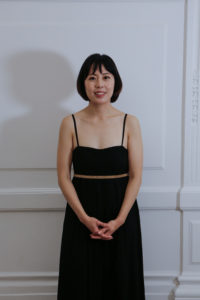 Beethoven Sonate op. 110 
i. Moderato cantabile molto espressivo
ii. Allegro molto
iii. Adagio ma non troppo – Allegro ma non troppo
Debussy Estampes
i. Pagodes
ii. Soirée dans Grenade
iii. Jardin sous la pluie
Entr'acte
Poulenc Intermezzo en La bémol majeur
Rachmaninov 6 Moments musicaux op. 16 
i. Andantino
ii. Allegretto
iii. Andante cantabile
iv. Presto
v. Adagio sostenuto
vi. Maestoso    
Da-Hee Kim performs regularly throughout Europe. Recently she has performed as a soloist at St Mary's Church in Warwick, Holy Trinity Church in Coventry, UK and as a duo with her brother, Da-Min Kim, at the Salle Colonne and the Korean Cultural Centre in Paris. Next season she has been invited to perform at the 'Mostly Piano' at Drapers' Hall, Coventry and Steinway Hall, London.
Child prodigy, she performed with the Seoul Symphony Orchestra at the age of ten and gave her first solo recital two years later. She moved to Paris to continue her studies and was admitted to the CNSM in Paris in Bruno Rigutto's class the following year. With her baccalaureate in hand, she won six prizes at the conservatory in Piano, Chamber Music, Piano Accompaniment, Harmony, Counterpoint, and Fugues. She was one of the last students of the legendary pianist Elisso Virsaladze at the Hochschüle für Musik und Theater in Munich where she obtained the Meisterklassendiplom. In 2019 she also received her doctorate in piano
D. in piano performance from the Johns Hopkins Peabody Conservatory in Baltimore, USA. Da-Hee has also received guidance from masters such as Arie Vardi, Idil Biret, Jean-Philippe Collard, Aldo Ciccolini and Leon Fleisher.
She has won prizes in several international competitions (A. Roussel, Mérignac, Claude Bonneton, Vallette, Montecatini), and has performed in recital at numerous festivals, including the Kumho Prodigy Concert, the Young Artist Concert at Seoul Art Centre, the Chopin Festival in Paris, the Chopin Society Congress in Vienna, the Villeveyrac Festival, the Jeunes Talents "Pause Piano", and the Uzerch Music Festival
Passionate about chamber music, she founded the "Duo Aïnos" with her brother, Da-Min Kim, Super soloist of the Marseille Philharmonic Orchestra. Winner of the Banque Populaire Group Foundation, the Duo won the 2nd prize at the Lyon International Chamber Music Competition. The Duo was invited to play in prestigious venues such as the Arsenal de Metz, Foyer de l'Opéra de Marseille, Salle Cortot and the Palazzetto Bru Zane in Venice. An outstanding chamber musician, she has collaborated with international musicians including Magali Mosnier, Thomas Leleu, Tatsuki Narita, Sung-won Yang, and Mihi Kim.
As a teacher, she has been giving piano lessons to students of all levels for 17 years. She has been an accompanist at the Johns Hopkins Peabody Conservatory in Baltimore, and a teacher of early music at Peabody Preparatory and music education at the CRD in Issy-les-Moulineaux. In 2021, she was appointed piano teacher at Bablake King Henry School.