Quand :
17 octobre 2020 @ 17 h 00 min – 18 h 30 min
2020-10-17T17:00:00+02:00
2020-10-17T18:30:00+02:00
Où :
Pôle d'Animation Culturelle
Avenue d'Aquitaine 24480 Le Buisson de Cadouin
Coût :
Entrée : 15€, adhérents 12€, étudiants, demandeurs d'emploi 8€, tarif famille, gratuit moins de 16 ans
Contact :
Raymond BARASZ
05 53 23 86 22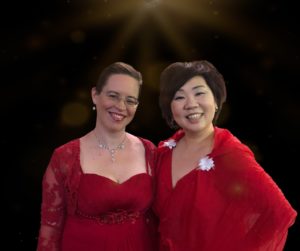 Program :
Spanish dreams :
Marais: Les folies d'Espagne (variations) flûte seule 
Taffanel: Andante pastoral et scherzettino flûte et piano'
Ibert: Entracte flûte et piano
Scarlatti: Toccata en ré mineur piano seul 
Falla: 7 chansons populaires espagnoles – transcription pour flûte et piano
Intermission
Granados: O la Maja y el Ruisenor (Goyescas) pour piano seul
Ravel: Habanera – transcription pour flûte et piano 
Granados – Kreisler: 5è Danse espagnole – transcription pour flûte et piano 
Albeniz: Tango – transcription pour flûte et piano 3′
Albeniz: El puerto – transcription pour flûte et piano 4'30
Albeniz: Asturias pour piano seul
François Borne: Fantaisie brillante sur Carmen » flûte et piano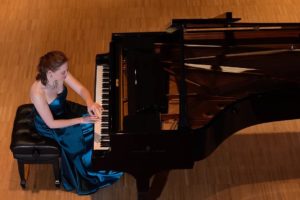 Jennifer Fichet
Pianist, chamber musician, teacher and accompanist, Jennifer Fichet has developed her musical personality through various encounters and artistic experiences. On stage as well as when she teaches, she is motivated by the desire to transmit her vision of music with enthusiasm and integrity. The public and the press are unanimous in saluting the finesse, sincerity and depth of her interpretations.
First trained at the CRR of Lille, Jennifer received the highest distinctions in piano (Marc Lys' class), accompaniment (Christophe Simonet), writing, analysis, chamber music, harpsichord and musical culture. After a scientific baccalaureate with honours, she chose to devote herself to music. She meets Reiko Hozu and Jean Koerner, whose teaching and artistic personalities will be essential for her development, and obtains at the CNSM in Paris a prize for analysis (Michael Levinas), then three higher education diplomas in piano (Gérard Frémy, Nicholas Angelich), chamber music and accompaniment. She then perfected her skills over two years with Rena Shereshevskaya, who helped her to deepen her relationship with the instrument and also received advice from Frédéric Aguessy, Théodore Paraskivesco, Evgueny Malinin, Evgueny Moguilevski, Pierre-Laurent Aimard and Vladimir Krainev.
Winner of several national competitions as well as the international Chopin de Brest and Mérignac competitions, she was noticed in 2005 by Kun Woo Païk and selected to close the Young Talents Festival in Dinard. Since then, she has performed in numerous festivals (Colmar, Les Arcs, Valloires, St Riquier, Clairac, Dominicains de Guebwiller, MANCA de Nice, Inouïes…) and various musical seasons (Ferme de Villefavard, Operas of Bordeaux and Lille, Brest Auditorium, Neuilly theatre, IRCAM, Moulin d'Andé, Hiver musical d'Arras…).
Passionate about chamber music, Jennifer has performed with artists such as Ophélie Gaillard or Andràs Adorjan. Her collaboration with the cellist Xavier Gagnepain will prove essential in her artistic and pedagogical development.
She has also had the pleasure of collaborating with several composers (Doina Rotaru, Marc Mellits, Vincent Paulet, Alex Nante, Florentine Mulsant) and creating works by Aleksandër Peçi, Jean-Baptiste Pelletier and Igor Kuljerić.
Finally, she is an experienced and sought-after accompanist. Former accompanist at the Conservatoire du Centre and at the Ecole Normale in Paris (classes of Pierre-Yves Artaud and Peggy Bouveret) as well as at the Long-Thibaud International Competition, Jennifer regularly accompanies great international academies and gladly works with choir (Philippe Caillard ensemble, radio France choir) or orchestra (Orchestre Lamoureux, Orchestre National de France, Orchestre de Flûtes Français, Ensemble Fa, Itinéraire).
In 2017, Jennifer is hired as piano coach on the shooting of Ludovic Bernard's film Au bout des doigts, notably with Jules Benchetrit and Kristin Scott Thomas. She also recorded the entire classical repertoire of the film. The soundtrack is forthcoming.
Jennifer Fichet has been teaching piano and accompaniment at the CRD in Issy-les-Moulineaux since 2009 and sight-reading at the CNSM in Paris since 2016.
The students in her class regularly attend Pôles Supérieurs, CNSM or grandes écoles abroad.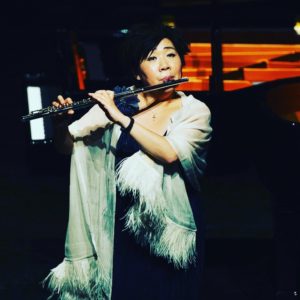 Mihi Kim
Flutist. Piccolist.
Born in Korea, MIHI KIM began studying flute at an early age. At ten years old Alain Marion noticed her, and she traveled to Europe to continue her studies with him, Jean-Pierre Rampal, Andras Adorjan, Aurèle Nicolet, Paul Meisen and Pierre-Yves Artaud. In France and Germany she distinguished herself by training at some of the finest music schools: Hochschule für Musik in Cologne, Hochschule für Musik in Munich (where she earned her Master's degree), and the 'perfectionnement' level at the Conservatoire National Supérieur de Musique de Paris where she also earned the French national teaching award (CA) for her instrument.
Ms. Kim has also participated in numerous international competitions. Among her honors are first prize at the International Music Competition of Bayreuth in 2000 and a laureate of the fifth Jean-Pierre Rampal International Flute Competition in Paris in 1998.
Her passion for new techniques is the origin of her first interactive flute method for beginners, "Fluting Up!" and "Fluting Up LS". They are currently published in 6 languages. (Editions du Leitmotiv, Paris).
Ms. Kim is currently pursuing her career as an international soloist in Europe, America (North and South) and Asia, and regularly gives master classes in France and abroad. She has taught in Germany, Korea, Taiwan, Serbia, Japan, Slovenia, USA, Italy, Spain, Switzerland, England, Chile and Russia, and will soon appear in Brazil, Canada and China.
Her collaboration with the composer Régis Campo led her to produce two CDs – "Autoportraits", published by Mandala/Harmonia Mundi, and a second disc on the Aeon label. She also published 2 CDs on the Harp and co label, available also on iTunes store. Her first solo album « Le Cavalier Bleu » with the pianist Bertrand Giraud is recently released under the label Anima Records and critically reclaimed.
She currently is Professor at the Ecole Normale de Musique de Paris "Alfred Cortot" for Flute and at the CRD Conservatory of Issy-Les- Moulineaux, Paris. She has also been a member of the contemporary music specialized Ensemble Multilatérale and Ensemble l'itinéraire, Paris (2004-2015) and is a Miyazawa International Artist, promoted by Miyazawa Flutes Inc. Japan, USA and Alto Musique – Flute Studio France.