Quand :
9 juin 2019 @ 17 h 00 min – 18 h 30 min
2019-06-09T17:00:00+02:00
2019-06-09T18:30:00+02:00
Où :
Pôle d'Animation Culturelle
Avenue d'Aquitaine 24480 Le Buisson de Cadouin
Coût :
Entrée : 15€, adhérents 12€, étudiants, demandeurs d'emploi 8€, tarif famille, gratuit moins de 16 ans
Contact :
BARASZ Raymond
05 53 23 86 22
Le Avventure di Amore
Pablo Lentini Riva and Pierre Pradier, guitars
Two virtuosos of the Spanish guitar to make you travel from Italy to Brazil via Cuba.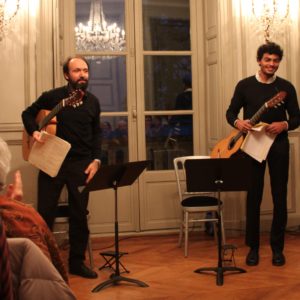 Program :
Jorge Cardoso 1949 Milonga
Leo Brouwer 1939 Micropiezas
Enrique Granados 1867-1916 Valses poéticos
Antoine de Lhoyer 1768-1852 Romance
Johann Kaspar Mertz 1806-1856 Elegie
——
Astor Piazzolla 1921-1992 Tango
Sergio Assad 1952 Farewell
Mauro Giuliani 1781-1829 Aventure di amore
Emilia Giuliani-Guglielmi 1813-1850 Variations sur un thème de Mercadante Op. 9
Pablo Lentini Riva, of Italian origin, is a musician and writer. He lives in Paris since 2003.
Professor of classical guitar and concertist, he received, from the beginning of his career, prizes as a soloist and chamber music.
After studying music at the Giuseppe Verdi conservatory in Milan, he took the advanced courses of David Russel, Oscar Ghiglia, Stefano Grondona and Betho Davezac and gave numerous concerts all over Europe and Japan.
Passionate about baroque music, he is nonetheless a refined interpreter of romantic and impressionist music. He recorded several CDs for the Italian OnClassical record label.
Currently, he is professor (PEA with CA) of classical guitar with the municipal conservatory Frédéric Chopin of Paris and the CRD Marcel Dupré of Meudon.
Writer, he has published with the Italian publishing house Ellin Selae novels and collections of news around music. In 2018 his collection of short stories « The last days of Orphee » was translated into French and published by Qupe editions.
Pierre Pradier, 22 years old. Guitarist, concert performer, student at the Paris National Conservatory.
The apothecary and his guitar.
Pierre tries to give up the guitar in the year of his majority to devote himself to pharmacy studies. He quickly returned and began a series of concerts in galleries and salons in Paris, duet with Pablo Lentini Riva, then later alone. He meets Mariapina Roberti and Kirjuhel whose artistic paths with multiple voices inspire and comfort him in his company.
The S4nta M4ria duet, created in 2016 with Raphaël Sabbah, explores new sound territories by mixing Torres guitar and electronic music.
The guitar he writes and plays shuns the established standards of interpretation. It embodies the desire to create and play with the heart, with the body, with hands, fingers and nails, beautiful music.