Quand :
8 octobre 2023 @ 18 h 00 min – 19 h 30 min
2023-10-08T18:00:00+02:00
2023-10-08T19:30:00+02:00
Où :
Pôle d'Animation Culturelle
Avenus d'Aquitaine 24480 Le Buisson
Coût :
Entrée : 18 €, adhérents 15€, étudiants, demandeurs d'emploi 8€, tarif famille, gratuit moins de 16 ans
Contact :
Raymond BARASZ
0553238622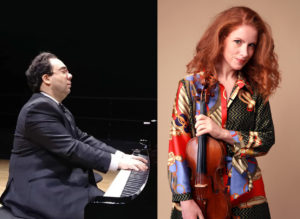 Program :
Tartini : Sonate Trille du diable
Schubert : Impromptu N°3 for piano
Liszt : Etude d'exécution transcendante N°10 for piano
Brahms : Sonate N°2  op. 100 for violin and piano
Cadman : Legend of the canyon op.68 for violin and piano
Prokofiev : Sonta N°2 op. 94a for violin and piano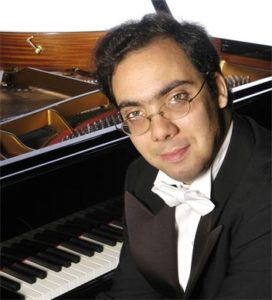 Jean Dubé, piano
Born in December 1981, internationally recognised as one of the most important young pianists of our time, Jean Dubé is appreciated for his musicality and power.
"He can play everything with absolute understanding, not to mention his phenomenal piano technique" (Normunds Šnē, Conductor and Director of the National Orchestra of Riga, Latvia, 2003).
A musical child prodigy, he has been performing all over the world since the age of four and won a Steinway piano at the age of nine in the national "Jeunes Prodiges Mozart à Paris" competition. That same year, he performed as a soloist at the Maison de la Radio with the Orchestre Philharmonique de Radio France, live on France Musique.
His discography already includes some thirty recordings, including twenty CDs, notably for Syrius, Bnl and Naxos, and several DVDs of concertos for French and other foreign radio and television channels.
Very much at home in all repertoires, including that for the left hand, he is one of the few pianists in the world capable of playing Gÿorgy Ligeti's Piano Concerto and giving Olivier Messiaen's Vingt Regards sur l'Enfant Jésus in a single recital.
He likes to combine other arts with music (painting, sculpture, film, literature) and to give themed recitals (bells, birds, love, dance, water and gardens). His performance of Turangalîlâ was named best show of the year in Riga in 2000, and his performance of Franz Liszt's Second Hungarian Rhapsody was the fastest rebroadcast in the history of Radio Chicago (WFMT) in 2002.
First prize winner at the Conservatoire National Supérieur de Paris at the age of fourteen with Jacques Rouvier, he studied with Jacqueline Robin, Catherine Collard, Vladimir Krainev, Rudolf Buchbinder, Murray Perahia and took lessons with John O'Conor for a year in Dublin on the Yvonne Lefébure scholarship. Winner of the Ouistreham Riva European Piano Competition in 2009, which also awarded him the Prix de l'Association Chopin à Nohant, he also won the First Grand Prize and the Audience Prize at the 2002 Franz Liszt Competition in Utrecht, as well as other international competitions ("Francis Poulenc", "Bucarest", "Messiaen", "Bourse Yvonne Lefébure", "Orléans XXe siècle").
He has been invited to sit on juries at international competitions ("Pinerolo" 2004, "Poulenc" 2008, "Chang Chun" 2009, international pre-selections for the "Franz Liszt" Competition in Utrecht 2020), and also gives masterclasses (in Finland, Hungary, the Netherlands, Ecuador, Ethiopia, South Africa, China, Malta, etc.).
He has performed on every continent as a soloist, in chamber music ensembles and with many major orchestras. His most recent recordings for Syrius include an album of Pièces de genre (le Violon fantasque) with violinist Frédéric Pélassy and another in homage to the Amerindians.
He regularly collaborates with opera lecturer Julia Le Brun (http://www. levoyagelyrique.com) on concert-lectures. He is also one of the artistic directors of Concertino (www.concertino.fr).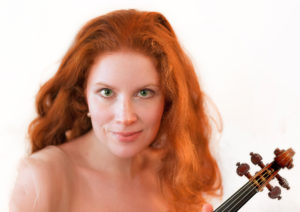 Biography
Éléonore Darmon's playing is like her red mane: volcanic and shimmering. A versatile musician who thrives as a soloist, chamber musician and orchestral musician.
An accomplished soloist
At the age of 5, Éléonore Darmon listened to her Gypsy violin records over and over again. By the age of 10, she knew: she was going to be a violinist. Ivry Gitlis spotted her enthusiasm and enthusiasm when she took part in the École des fans… Introduced to music by her pianist mother, she entered the Paris Conservatoire at the age of 14. After winning first prizes for violin and chamber music, she went on to study with Pavel Vernikov in Florence and then Vienna. He introduced her to the great Russian school of violin, whose colours and intensity of playing she retained. Éléonore Darmon also benefited from the advice of Hungarian violinist Roby Lakatos. "My violin is my voice", she says.
The winner of several international prizes, she has been awarded prizes by the Banque Populaire, Cziffra and Or du Rhin foundations. Her concert career began at the age of 16, when she performed Mendelssohn's Concerto in E minor with the Orchestre symphonique de Nancy, conducted by Sebastian Lang-Lessing, who was as astonished as the audience by "this prodigious young violinist". She never stopped: she played the major repertoire alongside the Ukrainian National Orchestra (Sibelius Concerto), the Baden Sinfonietta in Austria (Beethoven Concerto), the Royal Moroccan Symphony Orchestra (Concerto op. 77 by Brahms, then Double-Concerto with Russian cellist Alexey Zhilin), Aurora Symphony Orchestra in Sweden (Concerto No. 1 by Paganini)… In 2019, Éléonore appeared in concertos by Bruch and Tchaikovsky, conducted by Paul Kuentz, with whom she has forged a special relationship (over 60 concerts together in the last 15 years).
Sharing music
Even as a soloist, Éléonore Darmon sees music as an act of sharing and communion: "Everything is chamber music! Whether playing in front of the orchestra or in the orchestra, with the piano or in a quartet, the violinist must demonstrate the same quality of listening to the other musicians. Constantly on the lookout, the violinist loves nothing more than to share the intimacy and emotion of a work with other artists.
Éléonore was a member of the Orchestre de l'Alliance in Paris from 2013 to 2016 – an orchestra with which she performed Tchaikovsky's Concerto in D major during a flmé concert at Salle Gaveau in Paris, which can be viewed in its entirety on Youtube.
Since 2015, Éléonore has been regularly invited by the Orchestre National du Capitole de Toulouse (with whom she has toured Russia, Asia and South America), the Orchestre National de Lille and the Orchestre National de Montpellier as 2nd or 3rd soloist. Since 2018, she has performed with the Radio France Philharmonic Orchestra and since 2019, occasionally with the conductorless ensemble "Les Dissonances".
She was invited as concertmaster ten times by the Aarhus Symphony Orchestra (Denmark) in the 2018/2019 season (including a video recording of Bruckner's 7th Symphony conducted by Leif Segerstam). This orchestra invited her to appear as soloist in the Brahms Double-Concerto in 2020 with the young cellist Jonathan Swensen under the baton of Marc Soustrot, Music Director of the Aarhus Orchestra. He recommends Éléonore in the following terms:
"…This complete performance [of the Brahms symphonies] was for me an opportunity to discover a brilliant musician with a solid and determined temperament, everything that is indispensable for the position [of concertmaster] that Éléonore occupied for 4 concerts […]. Her musicality and playing proved indispensable to the smooth running of the concerts…".
An authentic and much-appreciated musician, Éléonore Darmon cherishes chamber music and performs at festivals all over the world with partners such as Mischa Ma'isky, Frans Helmerson, Martha Argerich, Gordan Nikolic, Lawrence Power, Emmanuel Rossfelder…
The collaborative duo she has formed since 2011 with pianist Antoine de Grolée has been hailed for the intensity of its interpretations. Éléonore and Antoine's debut album, Tea Time, was released at the end of 2018.
A daring artistic director
Sharing music also means bringing together musicians, great performers and young talents. Between 2013 and 2015, she single-handedly organised a chamber music season in Paris, performing alongside Gary Hoffman, Diana Ligeti, Daria Hovora, Macha Belooussova, Vladimir Mendelssohn, Pierre Fouchenneret and François Salque. In 2014, she became arti for piano
Liszt : stic director of the Sagonne Festival, in the heart of the Berry region.
Éléonore plays a Gianbattista Grancino violin and a Eugène Sartory bow.