Quand :
8 décembre 2019 @ 16 h 00 min – 17 h 30 min
2019-12-08T16:00:00+01:00
2019-12-08T17:30:00+01:00
Où :
Pôle d'Animation Culturelle
Avenue d'Aquitaine 24480 Le Buisson de Cadouin
Coût :
Entrée : 15€, adhérents 12€, étudiants, demandeurs d'emploi 8€, tarif famille, gratuit moins de 16 ans
Contact :
BARASZ Raymond
05 53 23 86 22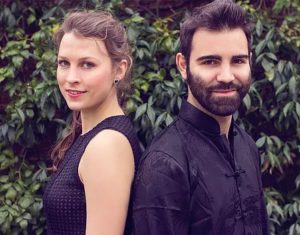 Program :
Masters from the East :  Russia & East – Europe
A. ARENSKY 12 Pièces pour 4 mains, Op. 60
     I Prelude
     IV Menuetto
     V Elegie
     VIII March
L. JANACEK In the mists
I Andante
A. SCRIABIN  (1871 – 1915)
Fantasy B minor, Op.28 (1900)
B. SMETANA
Má Vlast: Vltava (The Moldau) Allegro commodo, non agitato
Entracte
A. DVORAK  Danses slaves, Op.72
No 2 in E minor: Allegretto grazioso
No.6 in B at: Moderato
No.7 in C Major: Presto
S. RACHMANINOV Six Morceaux Op.11
I Barcarolle: Moderato (G minor)
II Scherzo: Allegro (D major)
III Thème russe: Andantino cantabile (B minor)
IV Valse: Tempo di Valse (A major)
V Romance: Andante con anima (C minor)
VI Glory: Allegro moderato (C major)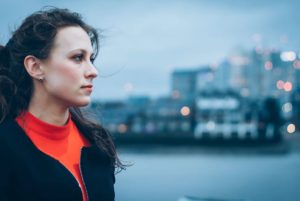 Oda VOLTERSVIK
The Norwegian pianist has been considered by the renown conductor Marios Papadopoulos, MBE Oxford Philharmonic, as a "pianist with great sensitivity and lovely tone (…) she has the touch to render the orchestral textures vividly and the technique to tackle the ferociously difficult piano writing with ease" and by pianist Gabriele Baldocci "a musician with a wonderful control of the instrument and innate sense of music." ​
Oda has performed at important international venues including Carnegie Weill Recital Hall,"Palermo Classica" International Festival, Leipzig Town Hall, the 1st International Folk Music Festival in Beijing; concert societies throughout the UK such as Powderham Castle 'New Generation Artist Series', the Edinburgh Society of Musicians, Fitzwilliam Museum in Cambridge and Jacqueline du Pré Concert Hall in Oxford. Venues in London include Wigmore Hall, St Martin in the Fields, St James` s Piccadilly, Regent Hall, Blackheath Halls, 1901 Arts Club and Charlton House.
Her concert engagements in Norway include annual lunchtime concert for a week at Edvard Grieg's home/museum in Bergen (2014- 2018) in addition to solo recitals, Oslo University Aula, Stavanger Cathedral, Lofoten Cathedral, Kabuso Concert Hall, opening concert during the Grieg Jubilee (2007), and regular concerts for the Bergen Chamber Music Society and the Grieg in Bergen International Series with solo and chamber music recitals (since 2010). She has performed concertos with the Sinfonietta of Athens and been invited twice to perform with the Norwegian–Polish Youth Orchestra.
In April 2016, her debut CD "Khoreia" was released in collaboration with the Italian pianist Giulio Potenza (Volt&Potenza Duo) for the label Velut Luna. Des Hutchinson at Musicweb-international.com, May 2017: "I felt cosseted and highly entertained in their hands, not only with playing of the surest unison and harmony, but with the palpable joy and fun of their music-making(…)" Her solo CD " Firebird" has been released in January 2019 with reviews such as: "Hats off to Oda Voltersvik for such well-considered programme for her debut recording as a solo pianist (…) a most auspicious start to a recording career that promises much for the future – and already delivers generously here." Martin Anderson, klassiskmusikk.com review.
She is a 1st prize winner of the Buono&Bradshaw competition with a performance in Carnegie Hall, May 2017. In 2016 Oda was a finalist in the Jaques Samuels Intercollegiate Competition in Wigmore Hall, London.
Oda is also project leader of the Volt Ensemble and the artistic director of the concert series Music in Movement. For her concert tours she has several times been rewarded funding by the Norwegian Arts Council, Music Norway, Fund for Norwegian performing artists and Bergen Municipality.
She holds a Master in Performance from the Royal College of Music and an Artist Diploma from Trinity Laban Conservatoire for Music and Dance with distinction from the Incollegiate Jury (London). Oda has participated in the Oxford Philharmonic Orchestra` s Piano Festival and Summer Academy (2006 – 2014), where she has played for renown musicians such as Menahem Pressler, Marios Papadopoulos, Gary Graffmann and Vladimir Krainev. From 2005 to 2008, Oda was selected for the `Young Musicians Talent Programme` at the Grieg Academy, University of Bergen.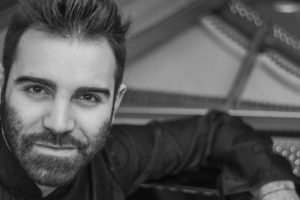 Giulio Potenza (°1990) started the piano at the age of six and has since then established himself as a respected concert pianist, teaching and performing extensively across Europe.
Studies
Giulio Potenza has studied with professors Gabriele Baldocci, Pascal Rogè, Denize Gelenbe and Mikhail Kazakevich (Trinity Laban Conservatory, 2012-2015), and Bruno Canino (Milan, 2009-2010). He has attended piano and chamber music master classes and lessons held by eminent professors such as Andrzej Jasiński, Franco Scala, Martino Tirimo, Barry Snyder, Irina Chukovskaya, Martin Kasik, Andrei Gavrilov, Pascal Rogè, Christopher Richter, Irene Inzerillo, Riccardo Risaliti, Wihan Quartet, Magini Quartet. He holds Postgraduate and Artist Postgraduate Diplomas from the Trinity Laban Conservatory and a Bachelor in History from University of Palermo. He completed his undergraduate music studies at the conservatory of Trapani (Italy) under professor Walter Roccaro.
Performances
He has performed throughout the world including United States, Asia, Spain, France, U.K., Swiss, Norway, Switzerland, Malta, Belgium, Holland and invited to play at prestigious international festivals and venues including Martha Argerich's Lugano Project of Lugano 2015, the Bangkok Piano Festival, Lofoten Chamber Music Festival, the Palermo Classica International Music Festival of Palermo, Festival dei Due Mondi of Spoleto, the Hammerklavier International Piano Series of Barcellona,Vacheres Summer Festival, the Bolzano Piano Festival, the Grieg in Bergen International Festival of Bergen, the Fringe Festival of Edinburgh, the Hammamett Piano Festival of Tunis, the Carnegie Hall of New York, Siam Ratchada Auditorium and Martin Hall of Bangkok,  Filarmonica of Oviedo, St. Martin in the Fields, Steinway Hall, Conway Hall, St. John's Smith Square, Balckheat Hall of London, Bridgwater Hall of Manchester, Cauchi Hall of Malta, Kabuso Auditorium in Øystese, Bernanos Auditorium of Paris, Theater aan de Parade in Holand, Casa della Musica of Arezzo, Bellinzona Theater of Lugano, Baldini Hall of Rome, Auditorium St. Stafano of Florence, Stavanger Chatedral of Stavanger, Massimo Theater (ONU Hall) of Palermo.
Giulio also performed for major music societies such as the Concordia Foundation in London, Arcades Musiques of Le Buisson de Cadouin, Sociedad Filarmonica de Oviedo, Maggio della Musica of Naples, Vanesborg Music Society of Vanesborg, Edinburgh Society of Musicians of Edinbhurgh.
As a soloist, he has performed with the Florence Symphonietta Orchestra, directed by Piero Bellugi, the University of London Symphony Orchestra, directed by Daniel Capp and the North Beds Orchestra directed by Jan Kaznowski.
He has collaborated with many renowned artists such as Jose Menor, Daniel Rivera, Gabriele Baldocci, Nicolas Dupont, Stefano Farulli, Zoe Freedman, Philip Martin.
Recordings
In 2014, as a result of his interest for four hands/two pianos composition, Giulio started a collaboration with the Norvegian pianist Oda Voltersvik (Volt&Potenza Duo). The Duo's debut CD "Χορεία", including a commissioned contemporary work by the Irish composer P. Martin, was been released in April 2016 under the Velut Luna label.
In 2017 he has released a cd including the piano and violin repertoire of Leoš Janáček for Da Vinci Classic label.
His recitals and recordings have been broadcast by BBC Radio 3, Rai Radio 3, Radio Musiq3, Radio Breda Klassiek, Radio Klara, the Swiss Classical Radio, Radio Vaticana, and Rai National Television.
Prizes
Giulio has won prizes at several important piano competitions including the Hanna Brooke prize for piano, for his excellence in the concert career at the Trinity Laban Conservatory; 2nd prize at the Bradshaw & Buono International Piano Competition of New York (2016); 1st prize at the Seiler International piano competition (2002); 1st Prize at the Stratford and East Concerto Competition of London (2015) ; 3rd Prize at the Geertruidenberg Klassiek International Music Competition in Netherland (2018); "Highly Commended Award" at the Jacques Samuel Piano Competition of London (2012).
Giulio was also selected by London's Concordia Foundation as participant to the Young Artists Programme.
Teachings
He is professor of piano at the Conservatory of Music "A. Scontrino" of Trapani and at the Windsor Piano Academy and regularly gives master classes in the UK and abroad. Furthermore, is the artistic director of the Windsor International Piano Competition and of the Windsor Piano Festival.
Reviews
"[…] I felt cosseted and highly entertained in their hands, not only with playing of the surest unison and harmony, but with the palpable joy and fun of their music-making […] "
Des Hutchinson, Musicweb-international.com, May 2017
"Giulio Potenza and Oda Voltersvik have a great amalgam, the sound is always defined and mellow, and playing styles are well differentiated between the various eras. The finals are always very light, and the interpretative choices are never predictable. There is a nice pearly touch and perfect diction of trills that feature in Bach"
http://giuliopotenza.com/discography/
The Volt & Potenza Duo is a first prizewinner of the Bradshaw & Buono international piano competition 2017.
While studying at Trinity Laban Conservatory (London, 2014), pianists Giulio Potenza and Oda Voltersvik started a collaboration with the aim of developing their common interest for four hands and two pianos compositions.
The duo has performed at several important venues and music societies in the UK (St James' s Piccadilly, St Martin in the Fields, Edinburgh Society of Musicians, Young Generation Artist`s Scheme at Powderham Castle) and at international venues and festivals including Carnegie Hall (Weill Recital Hall, New York), « Palermo Classica" International Festival, Edinburgh Fringe Festival, and the « Grieg in Bergen" Series.