Quand :
24 février 2019 @ 16 h 00 min – 17 h 45 min
2019-02-24T16:00:00+01:00
2019-02-24T17:45:00+01:00
Où :
Pôle d'Animation Culturelle
Avenue d'Aquitaine 24480 Le Buisson de Cadouin
Coût :
Entrée : 15€, adhérents 12€, étudiants, demandeurs d'emploi 8€, tarif famille, gratuit moins de 16 ans
Contact :
Barasz Raymond
05 53 23 86 22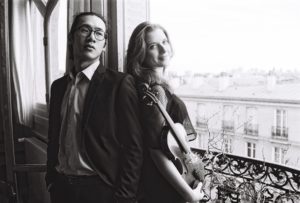 Duo con Fuoco was formed at the end of a multidisciplinary project.
Graduates of the National Conservatory of Music of Paris, Camille Théveneau and Florent Ling are guided by a common desire to launch a dialogue of the arts, embarking on a dual artistic adventure.  Musicians and narrators in search of the illusory, they aim to merge the imaginary and the sensual in perfect balance.  As artistic accomplices, they take their sonatas on a new journey of curiosity and delight.
Programme :
Liszt, Ballade n°2
– G. Fauré, Sicilienne
– J. Brahms, sonata for violin and piano op.78 n°1 in G Maj
     Entracte
– Camille Saint-Saens, Danse Macabre
– G. Fauré, Après un Rêve
– F. Poulenc,
sonata for violin and piano – extrait-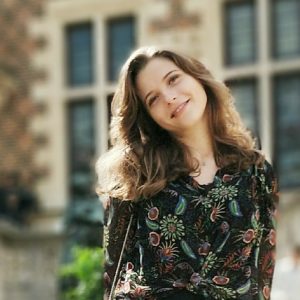 Camille Théveneau comes from a family of musicians who urged her to begin studying the violin at the age of 6.  In 2013, the joined CNSM Lyon to study with Marianne Piketty.  During her studies under the Erasmus Program in Germany, Camille trained under the violinist Marina Chiche.  This relationship was critical to the approach to her repertoire.
Returning to France, she joined CNSM in Paris to earn a master's degree, where she continued her career studying with Alexis Galpérine.  She graduated in June 2018.
In parallel studies, Camille perfected her technique with eminent talents such as Ivry Gitlis, Michael Martin, Baiba Skribes, and Miriam Fried, to refine her musical research.
Camille has flourished in working with various chamber music ensembles which have given her the opportunity to share the stage with renowned musicians such as Renaud Capuçon, Didier Lockwood, Michel Lethiec, Christian Altenburger, Hartmut Rohde and Michel Dalberto.
Camille is a laureate of the International Awards CIM of Val d'Isère, Leopold Bellan, Flame, Arthur Grumiaux and Marie Cantagrill, among others.
Miss Théveneau sees music an an expression of wonder, and she surrounds herself with artists from diverse backgrounds in order to enrich herself with multiple experiences.  She contributes notably to the show « Kafka in the Cities » on the music of Phillippe Hersant  created in March 2018 at the Comédie de Caen.  She also collaborates regularly with young actors of the CNSAD, underwritten by the Music and Wine Foundation of Clos Vougeot, benefitting from an instrumental loan.
Camille was part of the « Mozart » promotion within the Jaroussky Academy for the year 2017-2018, with the advice of Geneviève Laurenceau.
As soon as she returns to Paris, she will have the opportunity to perform at the Bourdelle Museum, the Montmartre Museum, the Saint Marcel Temple and the Bernarnos Auditorium.
Camille will make her debut in Asia in duet with piano, touring China, Taiwan and Macau.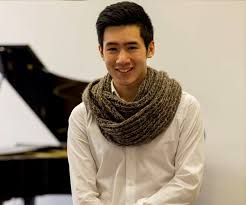 Florent Ling was born in Paris in 1994.  He discovered the piano while he was very young when he began studying with Professor Bin Wang.
At the age of 18, he decided to pursue a musical career, and joined the CRR of Paris, as well as the Ecole Normale de Musique Cortot where he had the chance to study with pianists Romain Dercharmes, Erik Berchot, and Bruno Rigutto.
During these years, he participated in many master classes, especially with Bruno Rigutto, but also with Xu Zhong and Giovanni Bellucci.  He also played in several festivals, including the Lisztomania and the Musicales de Préfailles Festivals.
He is currently studying at the Conservatoire National Supérieur de Musique in Paris, under Hortense Cartier-Bresson and Fernando Rossano. He won his piploma with unanimous honors.
During the summer of 2017, Florent performed in Asia, presenting concerts in Taiwan, and performing and giving master classes at the Conservatorio de Macau.

In December of 2017, he won the First Prize at the Claude Bonneton International Piano Competition, as well as the Public Prize, the Best Modern Art Award, and the BestSupport Award.
Alongside his activities as a musician, Florent is also passionate about theater, and studies dramatic art at the Conservatoire du 9e arrondissement.