Quand :
12 janvier 2020 @ 16 h 00 min – 17 h 30 min
2020-01-12T16:00:00+01:00
2020-01-12T17:30:00+01:00
Où :
Pôle d'Animation Culturelle
Avenue d'Aquitaine 24480 Le Buisson de Cadouin
Coût :
Entrée : 15€, adhérents 12€, étudiants, demandeurs d'emploi 8€, tarif famille, gratuit moins de 16 ans  
Contact :
Barasz Raymond
05 53 23 86 22 et 06 31 61 81 68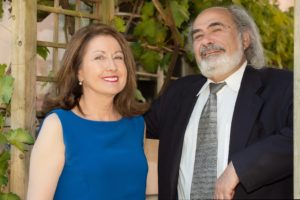 Suite n° 1 en sol majeur de JS.BACH,violoncelle solo
Sonate en la majeur « Arpegione » de f.SCHUBERT
Pause
 1ère Arabesque et l'Isle Joyeuse de C.Debussy,solo piano
Suite espagnole de Manuel de  Falla
Introduction et Polonaise opus 3 de F.Chopin
MARK DROBINSKY
Mark Drobinsky was born in Baku, Russia, and studied with Mstislav Rostropovich at the Tchaikovsky Conservatory in Moscow. He received first prize at the Munich International Competition. He taught at the Gnessine Institute and left the USSR in 1974 to go to Israel before moving permanently to Paris.
Mark Drobinsky has been invited to the most prestigious festivals. Critics have hailed him as one of the masters of the cello. Although he has a strong influence on the classical repertoire, he is also passionate about the discovery of new works and is an ardent defender of 20th century music: H. Sauguet, H. Dutilleux, A. Schnittke, D. Milhaud, J. Dorfman. F. Kaufman, A. Rabinovitch, G. Zanon.
He has played with many famous musicians: Martha Argerich, Misha Majsky, Lilya Zilberstein, Patrice Fontanarosa, Dora Swarzberg, Bruno Giuranna, Alain Meunier, Renaud Capucon and conductors like Valery Gergiev, Mstislav Rostropovitch, Saulius Sondetskiss, Eduardo Moss, Dutoit, Alexandre Rabinovich, Dmitri Liss, Arjan Tien, Arnold Katz, Salvator Brotons, Maxime Schostakovitch, Marie-Martine Bollmann, etc. Since 2000, he has participated annually in the Martha Argerich Festival in Lugano (Switzerland) and performed at the Teatro Colon. in Buenos Aires in 2003. In 2009, he participated in the LUGANO-PARIS festival at La Salle Pleyel. In 2010, he performed at the « Mozarteum » festival in Salzburg, La Roque d'Antheron, the Pietrasanta festival, as well as the Savoy and Mediterranean Festivals.
He has given master classes in South Korea, Monaco, Sau Paulo, Mexico City, Buenos Aires, Japan, Bahamas, Johannesburg, Geneva, Siena, Portogruaro (Italy), etc.
MARIE-MARTINE BOLLMANN
After studying music at the Conservatoire National de Région de Musique de Bordeaux, Marie-Martine Bollmann obtained a concert degree at the Ecole Normale de Musique de Paris in 1982 in Serge Petitgirard's class. She studied with Eliane Richepin, Catherine Collard and at the Accademia Chigiana in Siena, Italy, with Guido Agosti, at the Musikhochschule in Freiburg, Germany, with Vitaly Margulis and at the Mozarteum in Salzburg, Austria, with Germaine Mounier.
Soloist pianist and chamber musician, Marie-Martine Bollmann has been performing as a duo since 1997 with Russian cellist Mark Drobinsky, a former student of Mitislav Rostroprovitch, in various festivals in France, including the Pianos Folies festival in Le Touquet, at La Petite Malmaison, at the Charles de Gaulle Memorial (Colombey les deux Eglises), at the Musique au Cœur du Médoc festival in 2002 with Jacques Libouban, 1st solo flute of the ONBA, Jeudis Musicaux de Royan festival (Charente Maritime), Nuits Romanes festival (Poitou-Charente) at the Théatre de Cognac, Villeneuve-sur-Lot etc. Evenings in the castles of Bordeaux (Château Pichon-Longueville, Château Legay,…) as well as in Europe (Hurst Festival in England, Schaumburg Festspiel in Germany, tours in Italy) and recently for the Société Musicale de l'Ile Maurice.
She also plays with the internationally renowned Italian saxophonist and conductor Federico Mondelci, with violinist Liza Kerob, super soloist at the Monte-Carlo Philharmonic, as well as with the Fauré de Paris Quartet and solo musicians of the Orchestre National Bordeaux-Aquitaine, including Cécile Berry, 1st solo viola and Jacques Libouban, 1st solo flute, concerts and tours in France and Germany, Italy, Portugal, Morocco (Essaouira and Marrakech), United Arab Emirates (Dubai and Abu Dhabi), most recently at the Festival des Nuits Caraïbes in Guadeloupe, concerts at the Sofitel d'Essaouira, at the Royal Palm in Grand Baie (Mauritius).
She performed with the Alcan Quartet, a prestigious Canadian string quartet, in January 2016 as part of the Jean-Sébastien Bach Academy season at Le Bouscat (Bordeaux), where she was artistic director from 2013 to 2015. The Alcan Quartet has just received her in Quebec, Saguenay and Montreal.