Feb
1
Sat
2020
Chiara CIPELLI piano recital

@ Pôle d'Animation Culturelle
Feb 1 @ 16 h 00 min – 17 h 30 min
Program :
D.SCARLATTI  Sonata re min. K. 9
B.GALUPPI  Andante do maj.
D.SCARLATTI  Sonata si min. K. 27
L.V.BEETHOVEN  Sonata op.2 n°3
R.SCHUMANN  Warum ? op.12 n°3
Arabeske op.18
F.CHOPIN     Ballade op.38 n. 2
Ballade op.47 n. 3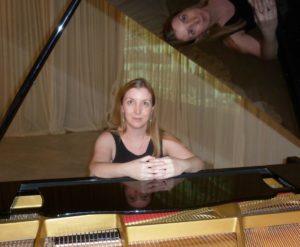 Graduated from the Conservatory G. Nicolini of Piacenza (Italy) with Great Distinction in the class of Lucia Romanini, she is also a graduate of the Freiburg i.Br. Musikhochschule (Germany) where she undertook a course of study with Prof. James Avery and in chamber music with Felix Gottlieb, then joined the Ecole Normale de Musique Alfred Cortot de Paris in the class of Nelson Delle Vigne-Fabbri and obtained the scholarship from the A. Roussel Foundation and the Diplôme Supérieur de Piano.
She has been advised by Michele Campanella, Rudolf Buchbinder, Vladimir Krainev, Hans, Leygraf Philippe Collard, Robert Roux, Philippe Entremont, Francois-Duchable, Michel Beroff, Jerome Lowental.
Chiara Cipelli has won numerous prizes and awards in national and international competitions, including Coppa Pianisti Citta'di Osimo, Rassegna Kawai Citta'di Como, Prix Città di Pisa, Prix Città di Cesenatico, Prix Carlo Soliva, as well as the Prix Fausto Zadra at the Abano Terme International Competition, etc.
She is a recipient of a scholarship from the Banff Center for the Fines Arts, Canada.
She regularly performs in recitals and chamber music in France and abroad, Teatro Municipale, Piacenza, Piccolo Teatro de Milan, Teatro di Marcello, Sala Baldini, Rome, Auditorium del Carmine, Parma, St. Petersburg.Martin in the Fields,London,Darmstadt Theater, Haydn Auditorium, Bolzano ,Salle Cortot, Schola Cantorum de Paris, Taipei Zhong Shan Hall Taichung Chung Hsin Concert Hall in Taiwan,ecc and she has also participated in many festivals including Schlern International Music Festival (Alto Adige),Festival Europeo d'Atri,Settimana Organistica Internazionale, Piacenza, Thueringen Chamber Music Festival, Bibiena Art Festival, MITO Festival de Milano, Festival 2 Mondi Spoleto,Banff International Music Festival,Palm Beach Piano Festival, Florida,Taiwan International Piano Festival,Manila International Piano Festival.
As a soloist she has performed with the Piacenza Conservatory Orchestra, the Palm Beach Symphony Orchestra, the National Taiwan Symphony Orchestra and has collaborated with the Orchestra Filarmonica Italiana, Gruppo Strumentale Ciampi, Orchestra Pomeriggi Musicali de Milano.
In 2019 he released his cd Bettinelli Piano Music for the Brilliant Classics label, which has already received numerous prizes and awards from international critics.
Chiara Cipelli is Professor of Piano at the Conservatory of Music of Ravenna and regularly gives Masterclasses in France, Italy, Belgium and Spain.
*** Translated with www.DeepL.com/Translator (free version) ***
Feb
23
Sun
2020
Sophie LELEU mezzo-soprano and Masumi FUKAYA piano recital

@ Pôle d'Animation Culturelle
Feb 23 @ 16 h 00 min – 17 h 30 min
Program
Unbewegthe laue luft, Brahms
Wie Raft ich auf in der Nacht, Brahms
Nachtstuck, Schubert
Clair de Lune Debussy
Tes yeux bleus, Chabrier
O ma lyre immortelle, Sapho, Gounod
Pause (5'00)
Les adieux de l'hôtesse arabe, Bizet
Près des remparts de Séville, Carmen, Bizet
Voi lo sapete, Cavagliera Rusticana, Mascagni
Un sospiro de Liszt
Casta Diva, Norma, Bellini
Au palais des fées, Don Carlos, Verdi
Masumi Fukaya, pianist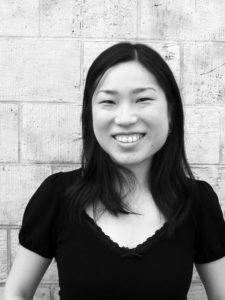 Born in Tokyo (JAPAN), Masumi Fukaya began her musical studies at the age of five. After her studies in Japan, in 2007, she came to France and entered the Conservatoire à Rayonnement Régional de Paris (CRR) in Oliver Gardon's piano class. In 2009, she obtains the DEMS in piano, a diploma awarded by the CRR and joins Ariane Jacob's accompaniment class. In September 2010 she entered the ConservatoireNational Supérieur de Musique et de Danse de Paris (CNSMDP) in Anne Le Bozec's vocal accompaniment class. She obtains in 2012 the Master's Degree in vocal accompaniment, with the unanimous mention very good, then she continues in the class of vocal direction of Erika Guiomar and obtains the Master's Degree in 2015 with the unanimous mention very good with the congratulations of the jury.
Since 2009, she has been performing regularly in France, especially with
singers at the Salle Pleyel, the Châtelet theatre, the Musée d'Orsay, the Petit Palais, in
Philharmonie de Paris…and during her studies at the CNSMDP, she took part in the several opera productions as a voice conductor. Currently she is an accompanist
at the Notre Dame de Paris, at the conservatory of Vigneux sur Seine.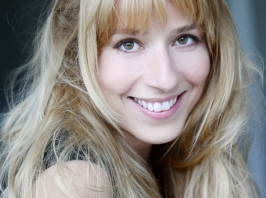 Sophie Leleu mezzo-soprano
After studying drama and the Celtic harp, Sophie Leleu obtained her
graduated in 2006 from the Guildhall School of Music & Drama in
London. Then she goes to Berlin and deepens her singing at the Universität der Künste.
Sophie has performed as a soloist in Europe, the United States, Europe and the United Kingdom. and in Asia, where she plays many roles: Penelope, Il ritorno d'Ulisse in patria by Monteverdi in London, Orfeo, Orfeo ed Euridice de Gluck in Berlin, Marcelina, Le Nozze di Figaro at the castle of Rochambeau, Galathée, Pastorale de Pesson at the Théâtre du Châtelet, the title role in La Grande Duchesse de Gerolstein d'Offenbach, Nancy T'ang, Nixon in China by Adams at the Théâtre du Châtelet, Candelas, El Amor Brujo by Falla with the Mayenne orchestra and at the Théâtre Vilar in Vitry, Jacqueline, Le Médecin malgré lui from Gounod at the Saint-Etienne Opera House, the title role in Bizet's Carmen at the Saint-Etienne Opera House,
the Saigon Opera in Vietnam, The title role in Offenbach's The Perichole
in Saint-Saëns's Frédégonde at the Saigon Opera, etc. She also performs
with the Links Ensemble on the national stages of the Philharmonie de Paris, la Ferme
du Buisson/Noisiel, the Maison de Musique de Nanterre, the Arsenal de Metz, the Théâtre du Buisson/Noisiel, the Maison de Musique de Nanterre, the Arsenal de Metz, the Theatre the Archipelago of Perpignan, the National Stage of Evreux Louviers, the Opera of Massy, the Nuits sonores in Lyon, the Opéra de Rouen, the Channel in Calais, the Folles Journées at Nantes, at the Wiesbaden Opera and the Staatstheater Darmstadt, etc. in works of the Reich. For the past two years, she has regularly sung Carmen in the show Carmen Flamenco: theatres of Liffré, Saint-Lô, Belley, Montaigu, etc…
Artistic director of Cie Des Lieux et Des Êtres, it sets up different programs in collaboration with other artists that they play at various festivals and venues. In March 2020, it is their creation En-Vie which will be born at the Ferme du Buisson. In June 2020, it will embody the role of Herodias in Strauss' opera Salome in Paris. www.sophieleleu.com
Mar
15
Sun
2020
Clément LEFEBVRE, 2019 Long, Thibaud, Crespin competition winner, piano recital

@ Pôle d'Animation Culturelle
Mar 15 @ 16 h 00 min – 17 h 30 min
Program :
RAVEL
– Pavane pour une infante défunte
– Le Tombeau de Couperin
RAMEAU
– Allemande, Les Trois Mains, Gavotte et six doubles (extraits de la Nouvelle suite en LA)
FAURÉ
– Nocturnes n.6 & 11
FRANCK
– Prélude Choral et Fugue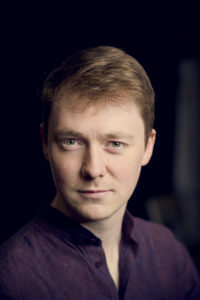 Clément Lefebvre
If there is a circle of poet-musicians, the pianist Clément Lefebvre is the torch-bearer of his generation. His first album "Rameau/Couperin", released in 2018 by Evidence Classics, reveals him as such to the music-loving public and within the musical world. This recording now bears his unique artistic signature, which earned him immediate and unanimous recognition: a "masterstroke" crowned with a Diapason d'Or Découverte.
His authentic personality and poetic sense 
were 
also noticed at the 2019 International Long-Thibaud-Crespin Competition, of which he is laureate. Previously, he had been distinguished across the Channel, winning in 2016 the First Prize and the Audience Prize at the James Mottram International Piano Competition in Manchester.
 This double consecration comes in the course of a musical journey that began in his early
youth in
 the north of France, then in Paris when he was only ten years old, with Billy Eidi, who gave him everything that constitutes the foundations of the musical art. He then went on to Lille, where he trained with Marc Lys and Jean-Michel Dayez, then at the Conservatoire de Boulogne-Billancourt in Hortense's Cartier-Bresson class., and finally at the CNSM in Paris: a student of Roger Muraro and Isabelle Dubuis, he also received advice from Claire Désert, Alain Planès, and Pierre-Laurent Aimard.
 With a great artistic demand that he developed with these masters, he owes it to Roger Muraro in particular to know how to assert his musical thought in rigour, depth but also expressive imagination, whether it is through the attention paid to the clarity of the musical discourse, or the one dedicated to the creation of a sound universe.
Stone by stone, his artistic career is taking shape and taking solid shape: the Banque Populaire Foundation, the Safran Foundation, the Société Générale Patronage, these prestigious institutions of which he is a laureate, give him their trust and support.

Festivals and organisers invite him to perform at La Roque d'Anthéron, the Folle Journée de Nantes, the Chopin Festival in Paris, the Soloists in Bagatelle, the Nohant Piano Festival, the Radio France auditorium, the Louvre auditorium and the Philharmonie de Paris. He
 has performed 
on foreign stages: Dublin, Beijing, Brussels, Berlin, Amsterdam.
 As a soloist, he has the privilege of playing in concert with the Royal Liverpool Philharmonic Orchestra, the Orchestre National de France, the Orchestre de la Garde Républicaine.


With the pianist Alexandre Lory, he forms a duo committed to exploring the greatest orchestral pages through the art of transcription. A sought-after partner in chamber music, he is invited to share the stage with Philippe Bernold, Anne Queffélec, Anastasia Kobekina and Olivier Patey. It is with the violinist Shuichi Okada that he conceived and performed the programme for their 2019 release on the Mirare label: sonatas and interwoven romances by Robert and Clara Schumann and Johannes Brahms.
"Clément Lefebvre opens the doors to an ever-renewed musical world: in Schumann, in Couperin and Rameau, obviously, but also in Debussy, Ravel, Haydn, Brahms, Fauré.An inspired, elegant and sensitive artist, he reveals unsuspected charms. His play, like his smile and his look, sincere and fair, combines this perfect balance that touches the mind and the heart, between tenderness and willpower, reverie and energy. Clément Lefebvre has noble words and poetry at his fingertips. »