Fév
3
dim
2019
GALLIEN trio : piano, violin, cello

@ Pôle d'Animation Culturelle
Fév 3 @ 16 h 00 min – 18 h 00 min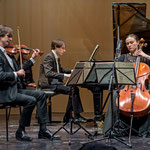 GALLIEN trio 
In just a few months, the Gallien Trio has established itself on the international scene as one of the most promising ensembles of its generation, winning the third prize of the prestigious « Franz Schubert und die Musik der Moderne » International Competition in Graz in Austria in February 2018, followed in September of the same year by the first prize and the special public prize at the « Gaetano Zinetti » International Competition in Verona, Italy.
Composed of Aurélienne Brauner, Tristan Liehr, both First Soloists in the Bordeaux Aquitaine National Orchestra, and Emmanuel Christien, concert pianist and chamber musician, the trio was formed in the city of Bordeaux when these three young and talented musicians met,  bringing together their shared passion for chamber music in general, and for the exceptional and inexhaustible trio repertoire with piano in particular.
The Gallien Trio, whose repertoire is very eclectic covers almost three centuries, from Haydn, Schubert, Beethoven, Mendelssohn to contemporary works by Takemitsu, Mantovani, not to mention French music with Ravel or Chausson, performs regularly in music halls throughout France and Europe. 
The Trio Gallien is underwritten by the Association Les Amis de l'ensemble Gallien.
Program:
Haydn : trio n°43 Hob.XV.27 in C maj
Beethoven : Trio in C minor
entracte
Mendelssohn :Trio N°1 in D min op 49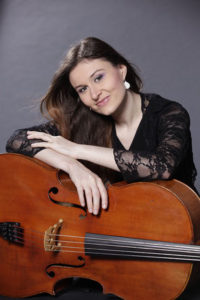 AURELIENNE BRAUNER cello
Aurélienne Brauner has been cello-solo of the Bordeaux-Aquitaine orchestra since 2014.
Aurélienne began the cello with Paul Rousseau then continued her training at CRR Bordeaux in the class of Etienne Péclard. She then joined the CNSM in Paris in the class of Philippe Muller where she received unanimous suma cum laude awards for cello and chamber music along with the Feydeau de Brou Saint-Paul scholarship. She went on to study at the Universität der Künste Berlin with Jens-Peter Maintz.
Winner of an interpretive prize at the Lutoslawski competition, she is supported by the Société Générale Musical Mécénat and the Meyer Foundation, thus enabling her to produce a « Young Soloists » CD dedicated to solo cello works of the 20th century.
Aurélienne has performed in New York, Kyoto, Santander, Verbier, Berlin, La Roque d'Anthéron, the Cité de la Musique, the Théâtre du Châtelet, the Palais des Beaux-Arts in Brussels, Theater of Tunis, Salle Cortot, Annecy National Theater, Aix-en-Provence Grand Theater, Grimaldi Forum in Monaco, Tchaikovsky Conservatory in Moscow. She was also the guest of Gaëlle Le Gallic on France Musique and « Découverte » of the magazine Classica-Répertoire.
In 2009, she received the Del Duca Foundation prize awarded by the Academy of Fine Arts to reward the beginning of her musical career and is laureate of the Vocation Foundation (« President of the Republic Promotion »). She was selected by the « International Holland Music Sessions for the « New Masters on Tour » tour in 2010-2011. She has also performed on Radio France as part of the « Generation Young Performers » concerts. She has been heard alongside Patrice Fontanarosa, David Grimal, Paul Katz, Svetlin Roussev, François Salque and Jean-Guihen Queyras …
In 2011, Aurélienne played as soloist with the Lille National Orchestra under the direction of Laurent Petitgirard and as soloist with the Baden-Baden Philharmonic Orchestra (Germany)  In 2012 she appeared in several festivals in France and abroad, notably in Sweden and at the Palazzetto Bru Zane in Venice with pianist Lorène de Ratuld.
 More recently, she toured Norway with the MinEnsemble and appeared in concerts in various festivals (Sinfonia in Périgord, Music in Tarn Valley, Vollore Concerts, Musician in Ouessant, Oslo Chamber Music Festival, Ravel Days in Montfort-l'Amaury, festival of Aix-en-Provence, Musical Flâneries of Reims).
 In 2015, she played with the ensemble intercontemporain at the Philharmonie de Paris and toured in the United States, as a soloist with the orchestra of Douai-Nord / Pas-de-Calais Region and recorded a CD dedicated to the works of David Monrad Johansen for SIMAX Classic in Norway which was nominated for the Norwegian Grammy 2016 (Spellemanprisen)
In 2017, she was heard in the Brahms double at the Bordeaux auditorium with the violinist Alexandra Soumm and in the Tchaikowsky Variations Rococo in 2018 with the Lyon Chamber Orchestra at the Salle Molière.
 Her recording of French sonatas « Twilight » in duet with pianist Lorène de Ratuld was released in April 2018 for the label Anima-Records.
Aurélienne also teaches cello and chamber music at Bordeaux's Center for the Higher Education of Music.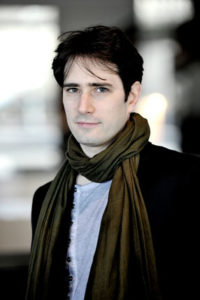 EMMANUEL CHRISTIEN piano
Born in 1982, Emmanuel Christien joined Jacques Rouvier's class at the National Conservatory of Music in Paris in 1999 and brilliantly won piano, chamber music and vocal accompaniment. He entered the developmental cycle in 2005. He is a laureate of the Alfred Rheinold Foundation which offers him a Blüthner piano.
As first prize winner in several international competitions (best interpretation of works of Brahms in the Casagrande Competition in Terni, Italy, and the Vlado Perlemuter European Competition), Emmanuel is invited to prestigious halls and festivals throughout the world – namely Saint-Denis, Folle day of Nantes, La Roque d'Anthéron, Montpellier Radio-France, the Pianissimes, Athenian, Chopin Bagatelle, Berlioz Festival, Pleyel Hall, Theater Champs-Elysees in Paris, in Europe, Japan, India, Canada, and Russia. 
Although a talented concert artist, accompanied by orchestras such as the Orchestre de Paris, the Montpellier Languedoc-Roussillon National Orchestra, the Caen Orchestra, the Moldavian Chamber Orchestra, Emmanuel does not neglect his passion for chamber music and regularly performs with artists such as David Fray, Bruno Monsaigeon, Adam Laloum, the Ardeo Quartet, Jean-Claude Pennetier and Dame Felicity Lott, as well as the Monsolo and Gallien Trio ensembles. 
He has recorded several cd's, the most recent of which are dedicated to Schumann's Fantaisestücke (Artie's Records) to César Cui's melodies (EnPhases) and Bach's concertos for two, three and four pianos (Erato).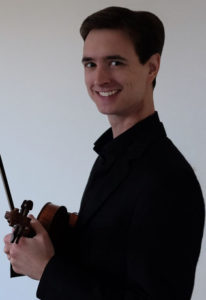 TRISTAN LIEHR violin
Appointed First Solo violin at the National Orchestra Bordeaux Aquitaine in 2015, after having been a member of the National Opera Orchestra of Lyon for two seasons, Tristan Liehr was passionate about the orchestra from an early age.
In 2011, he joined the prestigious Gustav Mahler Jugendorchester founded by Claudio Abbado, and then, eager to approach the contemporary repertoire, in 2013 he joined the orchestra of the Lucerne Festival Academy directed by Pierre Boulez.
Barely 25 years old, his experience is already considerable as he has had the opportunity to perform in numerous prestigious concert halls around the world (Concertgebouw in Amsterdam, Royal Albert Hall and Barbican Center Hall in London, Dresden Opera, Champs Elysees Theater in Paris, Grosses Festspielhaus Salzburg, KKL Lucerne, the Madrid Philharmonic, Vienna Musikverein, Megaron in Athens, Suntory Hall in Tokyo, Shirakawa Hall in Nagoya, Osaka Symphony Hall , …), under the direction of famous conductors (Sir Colin Davis, William Christie, Daniele Gatti, Emmanuel Krivine, …).
In parallel with his orchestral activities, Tristan Liehr also has a very rich chamber music career, and his performances earned him early recognition and praise from noted critics:
« A virtuoso with great control, Tristan Liehr plays with a very clean style and impressive composure". – Anaclase website (2013)
He participates in many festivals (Messiaen, Vivoin, Mai musical, Byblos in Lebanon, …) and performs in different concert halls (Grand Théâtre de Bordeaux, Salle Dutilleux, Salle Molière in Lyon, Opéra de Lyon, …).
Although his training remains classical (five First Prizes at just 15 years old at the CRR in Saint-Maur in violin, chamber music, musical training, analysis, instrumental deciphering, as well as a writing diploma, then a Master's degree with honors at the National Conservatory of Music of Lyon in the class of Vladimir Nemtanu and Kazimierz Olechowski), Tristan Liehr, always curious, is equally open to other styles of music. He records as a soloist, in chamber music ensembles, in composition for films, as accompanist for French and Québécois singers, as well as giving concerts of Yiddish music (notably at the Shoah Memorial in Paris). Most recently, he went to New Orleans (USA) where he participated as a member of a string quartet, recording a jazz cd with the famous musicians Evan Christopher, Herlin Riley, Aaron Diehl and Nicholas Payton.
Tristan Liehr plays a violin by Claude Pierray from 1716.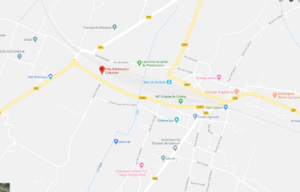 Fév
24
dim
2019
Camille THEVENEAU violin / Florent LING piano recital

@ Pôle d'Animation Culturelle
Fév 24 @ 16 h 00 min – 17 h 45 min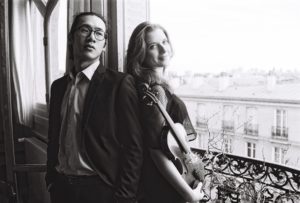 Duo con Fuoco was formed at the end of a multidisciplinary project.
Graduates of the National Conservatory of Music of Paris, Camille Théveneau and Florent Ling are guided by a common desire to launch a dialogue of the arts, embarking on a dual artistic adventure.  Musicians and narrators in search of the illusory, they aim to merge the imaginary and the sensual in perfect balance.  As artistic accomplices, they take their sonatas on a new journey of curiosity and delight.
Programme :
Liszt, Ballade n°2
– G. Fauré, Sicilienne
– J. Brahms, sonata for violin and piano op.78 n°1 in G Maj
     Entracte
– Camille Saint-Saens, Danse Macabre
– G. Fauré, Après un Rêve
– F. Poulenc,
sonata for violin and piano – extrait-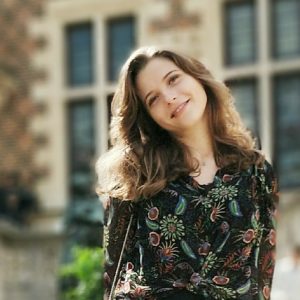 Camille Théveneau comes from a family of musicians who urged her to begin studying the violin at the age of 6.  In 2013, the joined CNSM Lyon to study with Marianne Piketty.  During her studies under the Erasmus Program in Germany, Camille trained under the violinist Marina Chiche.  This relationship was critical to the approach to her repertoire.
Returning to France, she joined CNSM in Paris to earn a master's degree, where she continued her career studying with Alexis Galpérine.  She graduated in June 2018.
In parallel studies, Camille perfected her technique with eminent talents such as Ivry Gitlis, Michael Martin, Baiba Skribes, and Miriam Fried, to refine her musical research.
Camille has flourished in working with various chamber music ensembles which have given her the opportunity to share the stage with renowned musicians such as Renaud Capuçon, Didier Lockwood, Michel Lethiec, Christian Altenburger, Hartmut Rohde and Michel Dalberto.
Camille is a laureate of the International Awards CIM of Val d'Isère, Leopold Bellan, Flame, Arthur Grumiaux and Marie Cantagrill, among others.
Miss Théveneau sees music an an expression of wonder, and she surrounds herself with artists from diverse backgrounds in order to enrich herself with multiple experiences.  She contributes notably to the show « Kafka in the Cities » on the music of Phillippe Hersant  created in March 2018 at the Comédie de Caen.  She also collaborates regularly with young actors of the CNSAD, underwritten by the Music and Wine Foundation of Clos Vougeot, benefitting from an instrumental loan.
Camille was part of the « Mozart » promotion within the Jaroussky Academy for the year 2017-2018, with the advice of Geneviève Laurenceau.
As soon as she returns to Paris, she will have the opportunity to perform at the Bourdelle Museum, the Montmartre Museum, the Saint Marcel Temple and the Bernarnos Auditorium.
Camille will make her debut in Asia in duet with piano, touring China, Taiwan and Macau.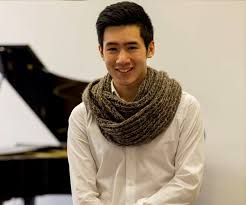 Florent Ling was born in Paris in 1994.  He discovered the piano while he was very young when he began studying with Professor Bin Wang.
At the age of 18, he decided to pursue a musical career, and joined the CRR of Paris, as well as the Ecole Normale de Musique Cortot where he had the chance to study with pianists Romain Dercharmes, Erik Berchot, and Bruno Rigutto.
During these years, he participated in many master classes, especially with Bruno Rigutto, but also with Xu Zhong and Giovanni Bellucci.  He also played in several festivals, including the Lisztomania and the Musicales de Préfailles Festivals.
He is currently studying at the Conservatoire National Supérieur de Musique in Paris, under Hortense Cartier-Bresson and Fernando Rossano. He won his piploma with unanimous honors.
During the summer of 2017, Florent performed in Asia, presenting concerts in Taiwan, and performing and giving master classes at the Conservatorio de Macau.

In December of 2017, he won the First Prize at the Claude Bonneton International Piano Competition, as well as the Public Prize, the Best Modern Art Award, and the BestSupport Award.
Alongside his activities as a musician, Florent is also passionate about theater, and studies dramatic art at the Conservatoire du 9e arrondissement.